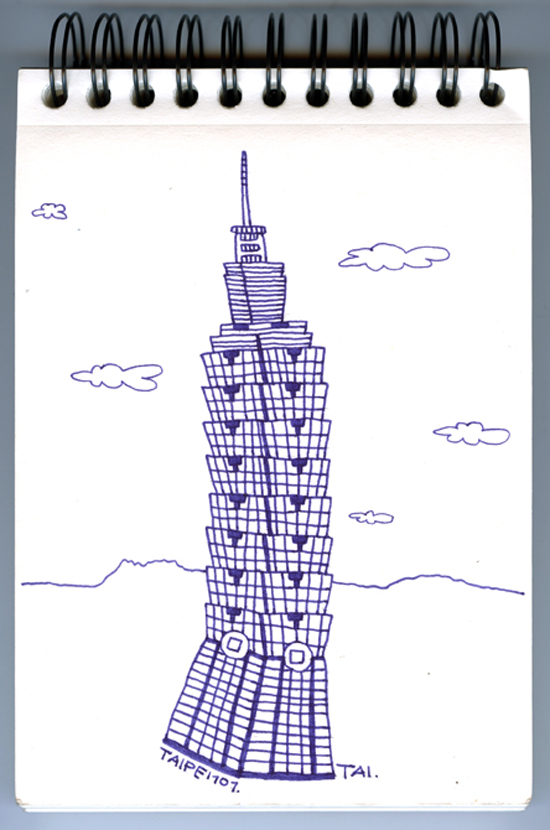 L'ombra cade su quest'area nel pomeriggio,  segnando il tempo di un enorme orologio urbano. Il profilo di bambù attraversa le stade, si allunga lentamente sulle cose. Tutto questo artificio, creato per marcare l'isola, la città, il suo cuore finanziario nella mappa globale.
C'è un uomo che di domenica corre intorno al Taipei 101. Traccia cerchi perfetti e ogni volta annota la misura del suo percorso.
3 giri, 10' 48"
Coordinate sconosciute di un'esplorazione personale: il semplice bisogno di localizzarsi dall'interno, nello spazio e nel tempo, di rimisurare, a un'altra quota, i segni sulla propria mappa.
>> CITYTALES

/ENG
Coordinates
In the afternoon the shadow falls on this area, telling the time like a huge urban clock.
The bamboo-shaped outline crosses the streets and lies down all over the things. Such an artifice, created in order to put the island, the city, its financial heart, on the global map.
There is a man who runs around the Taipei 101 every Sunday. He draws perfect circles and every time he notes down the measure of his path.
3 lap, 10' 48"
Unknown coordinates of a personal exploration: the necessity of simply finding a place, in space and time, measuring with different scale the signs of one's map.
>> CITYTALES